RELICS: RETURN TO CLAY
PREMIERING: MAY 31ST 2019 8PM
LOCATION: DIAVOLO DANCE THEATER
click HERE for information and tickets
Shenandoah Harris was born and raised in Denver, Colorado. From a young age she was involved in both Theater and Dance. Upon moving to California she continued to pursue her love of dance training at several studios in Northern California including Alonzo King Lines Ballet. She went on to receive her BFA in Dance from University California, Santa Barbara with second degree in Theater Production and Design. After graduation Shenandoah moved to Los Angeles to pursue a professional career in dance and lighting design. She has worked as a Designer and Technician at several companies in Los Angeles including Mattel Toys, Golden Voice and Universal Studios. in 2017 Shenandoah founded Psychopomp Dance Theater, which is currently in its' second season. . Shenandoah currently is a Touring Company Member and Dance educator of Diavolo| Architecture in Motion. Prior to joining the touring company she was also a Performing and Teaching Artist in the Diavolo Institute.
Shenandoah founded Psychopomp Dance Theater in 2017. The company seeks to create movement that is born from production and design elements, transporting the audience. Through collaboration, the company works to break free from the habitual ways the body moves. Focusing on authentically soulful and deeply spiritual movement qualities the movement style is highly athletic, raw, grounded and visceral. The material can be described as a mix of modern, contemporary, acrobatic and capoeira styles. Psychopomp works to connect not only physically and emotionally but also spiritually to each other and the work they create, allowing a space for the audience to witness and reflect upon the core ideas and questions around what it is to be human. Pyschopomp is committed to new movement innovation and melding of the elements of design, allowing the work to engage all different types of viewers in a new and direct way.
Hailing from Western Massachusetts, MaijaLisa Miltz has been training in several styles of dance since a young age. Her formative years were based in tap, jazz, and ballet, then moved into modern and composition during her time at Pioneer Valley Performing Arts High School. MaijaLisa has performed works such as SoundSpace by Michelle Dorrance, Continuous Replay by Bill T. Jones, Gold Dust by Teddy Forance, and more, and has presented her own work at the historic Academy of Music in Northampton, MA. After making the move to LA in 2016, MaijaLisa currently dances for Psychopomp Dance Theater and SiZa Dance Company, teaches for Conga Kids LA, and is a student of Kinesiology with an emphasis on Physical Therapy.

Kaycee was born and raised in North Reading, Massachusetts where she trained in a variety of styles for many years. After high school, she continued education at Jacksonville University where she studied Exercise Science and Dance. Now pursuing her dance career in Los Angeles, Kaycee is currently working with Psychopomp Dance Theatre as well as a variety of freelance projects. While living in California, Kaycee is grateful to have also worked with FUSE Dance Company Inc., Sean Greene's Shield Wall, Palm Dance Collective, SBCC Dance Co., Weslie Ching Dance, and Nebula Dance Lab. Her involvement and interest in freelance projects include; choreographing and performing in music videos, participating and directing miscellaneous photoshoots, and her greatest passion, Underwater modeling and film.
Annelise Bucher grew up in Vancouver Canada, where she started dancing at age 6. She has trained in RAD ballet, modern, jazz and contemporary. She studied at the Boston Conservatory, where she received her BFA in contemporary dance performance and her teaching certification for RAD ballet. At the Boston Conservatory, Annelise performed works by Danny Buraczeski, MADBOOTS Dance, Francesca Harper, Claudia Lavista and Omar Carrum. She has also performed in many collaborative projects with musicians and artists in Boston, at the Berklee Performance Center and the Institute of Contemporary Art. Upon moving to LA, Annelise started dancing for the DIAVOLO Institute and Psychopomp Dance Theater. Outside of performing, she also loves to teach both children and adults.

.
Andrew Corpuz grew up in Ukiah California and did not begin training in movement until 2009 where he was first exposed to Capoeria and Musical Theater. In 2013 Andrew attended CSU Fullerton and made the decision to pursue a degree in Dance. While at CSUF he had the opportunity to train with Collin Conner and perform Conner's piece August at ACDA, the Kennedy Center in D.C and in 2016, Jacob's Pillow. Upon graduation in 2016 Andrew was offered a position as a performer and teacher on The Diavolo Institute. Through working with Diavolo Dance Theater Andrew has most recently had the opportunity to perform with them on America's Got Talent 2017 and is currently working on "The Veteran's Project: A Long Journey Home". He joined Psychopomp Dance Theater in June of 2017.
Abraham Meisel, born and raised in Princeton, New Jersey fell in love with dance playing Dance Dance Revolution in a friend's basement. After years of party tricks at weddings and Bar Mitzvahs, he began formal training at the Lawrenceville School and later at both Rutgers University and the Hebrew University in Jerusalem. Currently a member of Diavolo Architecture in Motion, Abe enjoys rock climbing, parkour and figuring out ways the make the biggest mess possible.
Rehearsal Director: Emily Krause
Emily Krause, a native of the Pacific Northwest, began training as a gymnast at the age of three. Her acrobatic training remains a large influence in her artistic approach to movement. In addition to gymnastics training, Emily attended Vancouver School of Arts and Academics in Vancouver, WA. There she learned how important arts and academic education integration is. To further her interest in professional dance she pursued an apprenticeship position with A-WOL Dance Collective, an aerial dance company in Portland, OR where she performed in various productions with the company such as their annual outdoor performance Art in the Dark. Emily received her BFA (2017) in Dance Performance and Choreography from California Institute of the Arts. During her undergrad studies she was lucky enough to be an exchange student at London Contemporary Dance School in London, UK. Currently, Emily holds the position of teaching artist with the DIAVOLO Institute.
Performances
may 31st 2019 8PM: RELICS: RETURN TO CLAY @ DIAVOLO SPACE 616 MULTON AVE
CLICK here for tickets
NEWS
Front & Main Festival 2018--> Second Place winner
RAW Artists DTLA Guest August 2018
Currently in process for 2019 Premiere of RELICS: return to Clay
Company Class
Sunday Evening open company class in DTLA. Email for more details!
Audition
PSychopomp Dance Theater is always looking for new and exciting artists to join us in collaboration and creation. We hire dancers for both long term and short term projects. Interested in getting involved as a dancer or collaborator? Contact psychopompdance@gmail.com for further information!
RELICS: RETURNTO CLAY (2019)
psychopomp dance Theater's first evening length work , this piece is Inspired by the archaic myth of the Great Flood that spans both culture and religion. Psychopomp brings together five artists in a ruthless landscape that are presented with the opportunity to remake their mindless and brutal society.
Does this opportunity to forge a new reality make a difference?
WYRD: RAW breaks down the many layers that surrounds feminine and masculine roles that exist within religion and tradition. Focusing on the ritualism and inherent beauty found in male and female bodies moving together, the dancers create sacred and powerful connections that give rise to the transcendent qualities within each of us.
This piece was commissioned by RAW Artists LOS Angeles for their DTLA Performance in September 2018.
wyrd focuses on the power, pain and delicacy that resides in the primal and spiritual aspects of womanhood. This trio of three power women explores these topics through high risk, athletic and emotional movement. How do women negotiate the inner strength that comes from the pain we experience and learn to appreciate and take control of that power? Highlighted as "the most memorable work of the night" in the Synthesis v festival 2018.
Desperantium takes its inspiration from Auguste Rodin's work The Gates of Hell. The choreographic material is drawn from the intricately beautiful body shapes of both the male and female figures, the exhibition of raw human emotion and the backstory of Dante's Inferno. Rather than a specific story, the work creates a landscape for the dancers and the audience to confront their relationships not only with one another but with their own spirituality and mortality.
This piece was commissioned by Highways Performance Space for their 2018 New Shoes Series.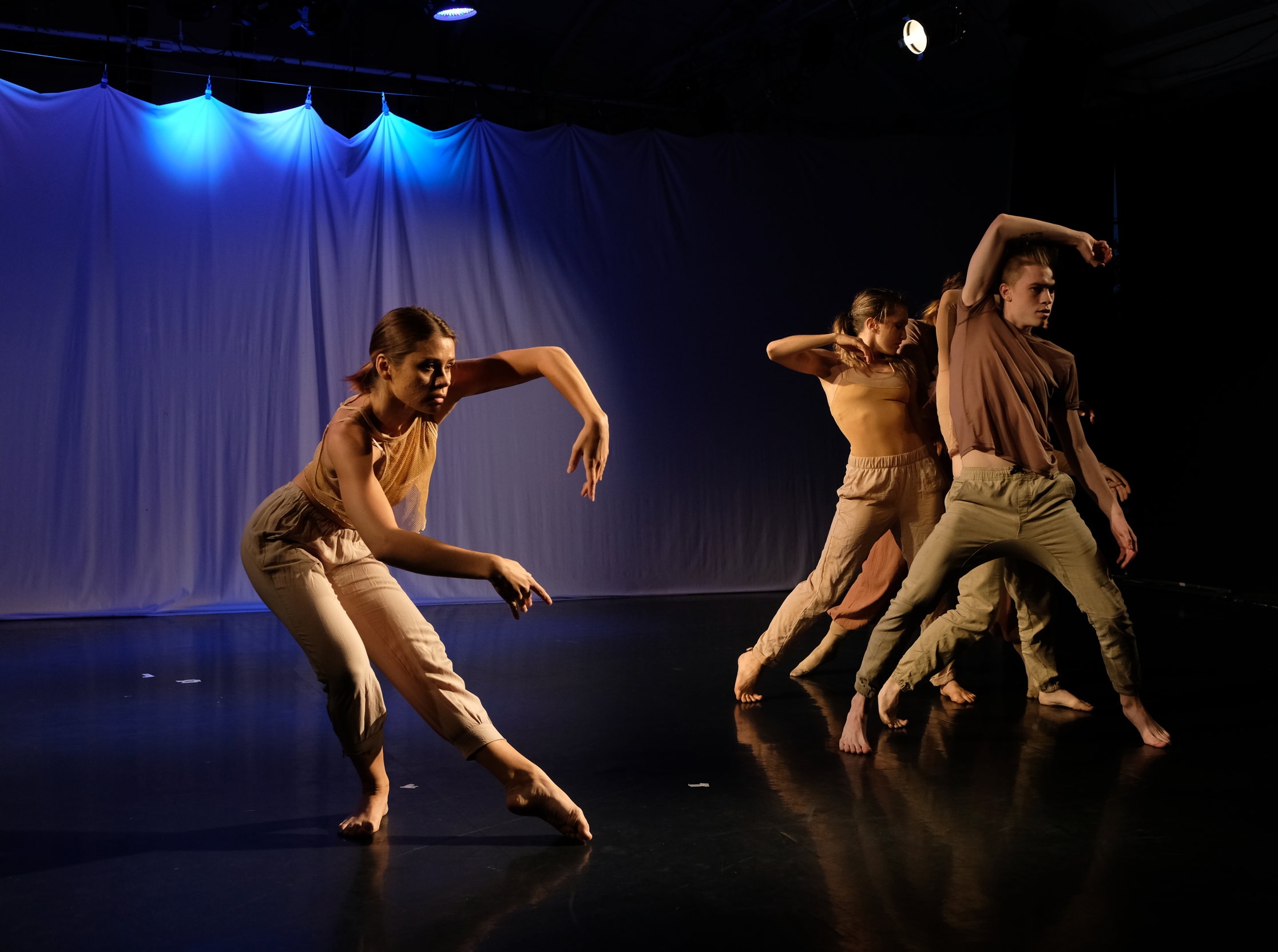 Anomie, the title of the piece, is defined as the condition where society creates a structure where humans feel no moral obligation towards one another. This clash between a personal moral compass and society's moral compass leads to widespread suffering. Anomie focuses on existential fears and invasive thoughts and how these concepts can cause individuals to behave in society. inspiration was drawn from frank auerbach's paintings as well as literature on invasive thoughts and ocd. through collaboratively generating imaginative and spiritually authentic movement this piece allows the viewer to reflect on the world around them. can we create a world governed by morality?
From The Great Above to the Great Below (2016)
From The Great Above to the Great Below is a piece based on joeseph CAMPBELL'S THE HERO'S JOURNEY AS WELL AS THE TALE OF INNANA. This piece tells the story of three women who take on a challenging journey to a rite of initiation through the application of gold paint to their bodies, weaving and intermingled partnering and weight sharing as well as sweepingly powerful movements that explode across the space.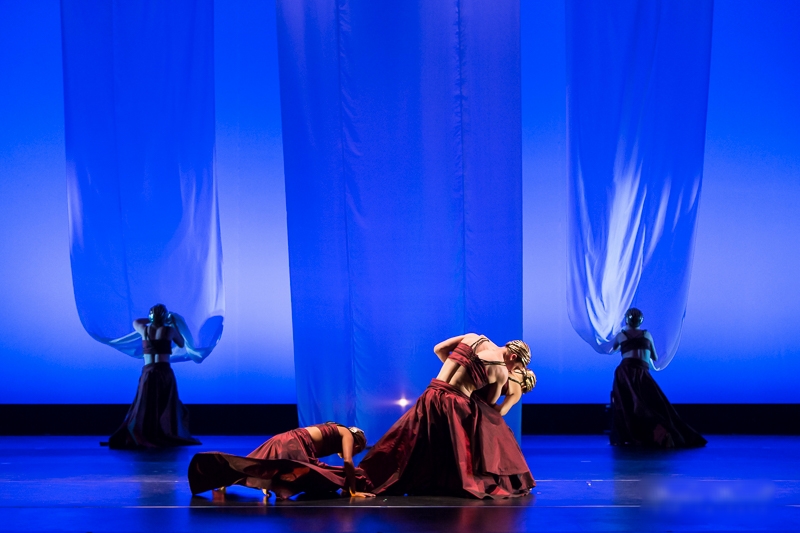 Nefesh|ruach|neshamah(2016)
Nefesh | Ruach | Neshamah was created around specific scenic, lighting and costume design choices. the movement was generated from working with long billowing skirts, huge panels of white fabric hanging down in the space. These white diaphanous panels of fabric are evocative of the separation of realities and reference the allegory of the Plato's cave, as the dancers are both real and visible at times, and mere shadows in other moments. This piece is set in an otherworldly space, where the dancers explore a new landscape and new relationships with one another.
Contact
For questions and booking 
Email: psychopompdance@gmail.com